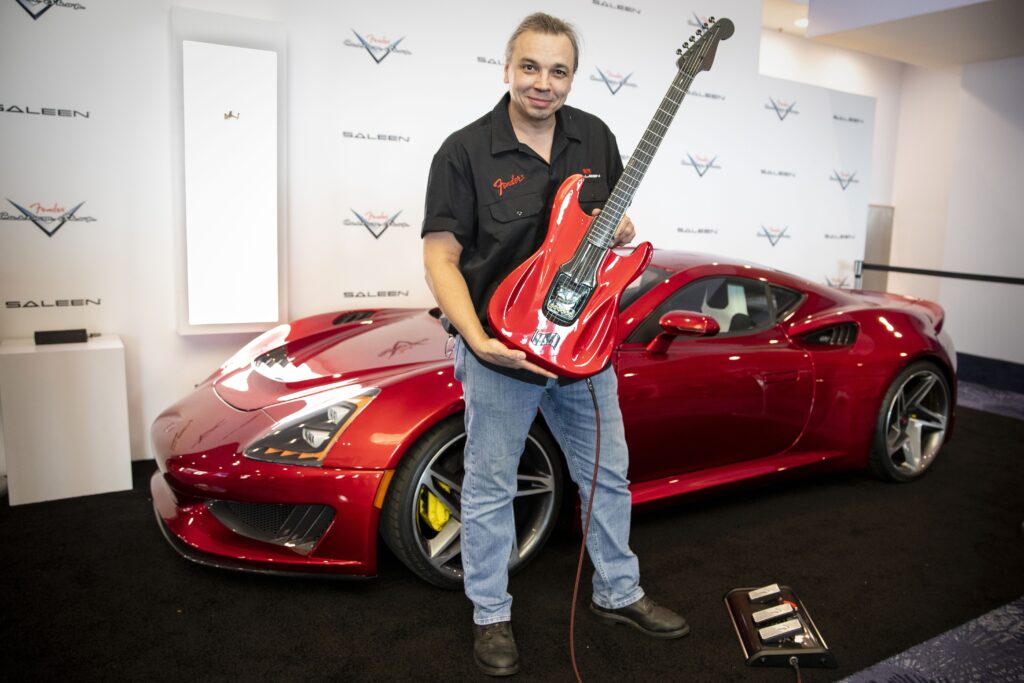 Words: Robby Pacicco / Photos: Fender Musical Instruments Corporation
The number "one" when written on paper is nothing impressive. It's just a boring little vertical scribble requiring minimal effort to write at all, yet it signifies the start of something new or can be used to imply the absolute best. In art, the number one is so much more than a plain doodle. The integer is an unofficial cultural icon, even having been used to title songs by heavyweights such as Metallica and U2. What about the number one as a functional sculpture? That is easy, just find Corona, California on a map and send a thank you card. Southern California is famous for having a strong hot rod culture. It also happens to be where two legends of their respective industry call home. Referring of course to the So-Cal based American supercar masters over at Saleen Automotive and the music instrument experts Fender Custom Shop, both in Corona California. Thanks to both aforementioned giants, "1" can now dawn its presence upon a car and a guitar worthy of its numerical brand, as it represents both the absolute best and true beginnings of legendary admiration. It all began when Saleen Automotive, the team famous for enhanced Mustangs and the iconic S7 created an all new sports car with super car credentials, the Saleen 1. Sometimes referred to as the S1, the Saleen 1 is a race car disguised as a road going machine with proper manners and a treble matching its bass. It's sexy, it performs and more importantly it functions beautifully. Not far from Saleen Automotive is the Fender Custom Shop where among the skilled staff works Principal Master Builder Ron Thorn. A man known for his supernatural abilities throughout the luthier community and guitar loving crowds. Ron Thorn is the person everyone should worship for his creation based on the Saleen 1 perfectly christened the Fender Stratocaster 1. Using the famous Fender Stratocaster as a foundation and incorporating many of the design cues from the Saleen 1, the very unique Fender Stratocaster 1 was born. Ron is a passionate car loving and guitar building artist. He is the man responsible for what can be described as probably the hottest guitar displayed at the winter NAMM Show (National Association of Musical Merchants) of January 2020. Get to know Ron Thorn as he describes in his own words what it's like to combine his on passion for performance cars and building custom guitars.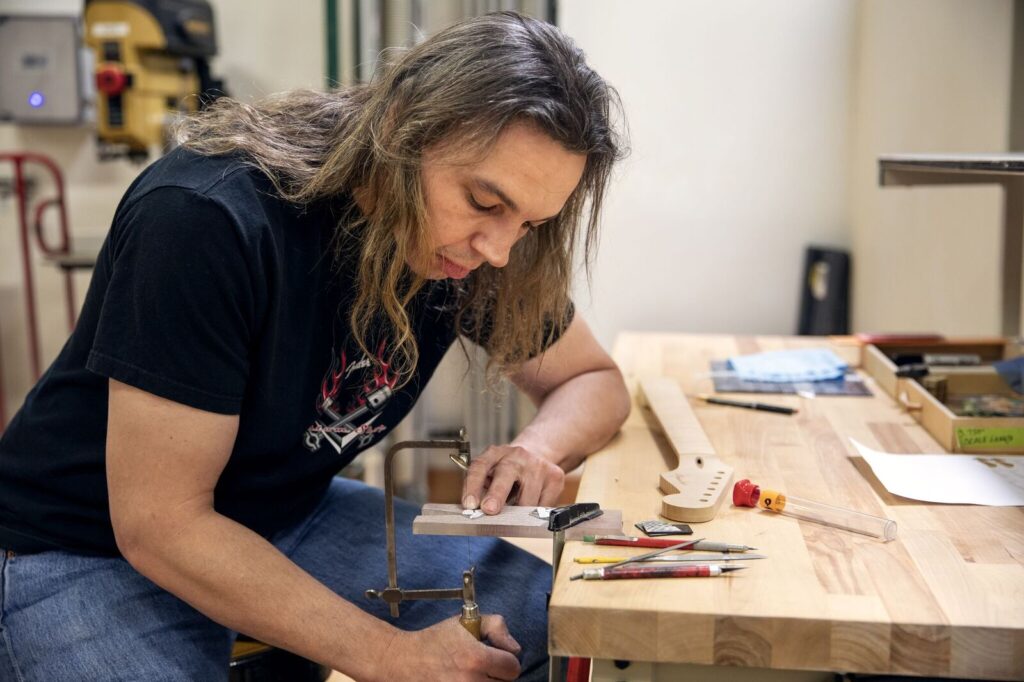 DRM: You've been building guitars from a young age. Tell us about when and how it started.
RT: I grew up in a family of professional carpenters, so I was surrounded by woodworking from day one. In 1982, at age 13, a friend gave me a guitar neck and tuners. It didn't take long before my father and I had built and painted a body for it and I had fabricated the needed hardware in junior high "metals" class. A humbucker slammed in the bridge position purchased from a local music shop and I was on my way to being, what I thought at the time, was a rock star. I didn't expect it to be the start of my real career.
DRM: Were you as equally into cars too from a young age?
RT: I'll blame heredity for that, among other things. My father was a member and pinstriper for the Toronto Modified Car Club in the 50s and early 60s. He had a '62 Corvette when I was a kid and the first car he purchased when we moved to Southern California in '79 was a gorgeous 1970 Cutlass Supreme convertible in Azure Blue. I fully restored that same vehicle a few years ago, and it sits proudly in my garage today.
DRM: Have you ever or planned on building your own custom hot rod or racer?
RT: I've restored a few cars, including a great '66 Fairlane GTA with Tri-Power that I still own, so I don't feel like I'm missing out on that experience. The Daytona Coupe currently scratches that race car itch. I've tracked it numerous times, including August 2019, when I rented Willow Springs Raceway for the day for my 50th birthday. It was an experience I'll never forget. A dozen buddies and I were slinging ourselves around the track, and many times I was the only one driving out there. However, I'd be a liar if I didn't say I check Craigslist almost daily for the next car to sink my teeth into.
DRM: What is it about custom guitars, electric or acoustic that just instantly make people view them as the musical equivalent to hot rods and sports cars?
RT: There are many similarities between guitars and sports cars, but the primary parallel is the cool factor. Cars, namely hot rods, have always represented coolness, rebellion, expressing one's self in a non-conventional way. That certainly can apply to the electric guitar. Following that, other similarities are in the looks, the lines, the chrome, the volume! Lastly, freedom. Taking a joy ride allows you to escape from life, even for just a few miles. It clears your mind and allows you to transcend. Playing guitar can also provide a very similar freedom. You get in the zone, create and lose yourself in the moment. When you start getting into custom guitars, built specifically for yourself, it's usually about fine tuning the instrument's construction to match your optimized performance specifications. A high performance race car is dialed in to match a particular driver's preferences, much like a custom guitar is constructed to be optimized for a player's preference, both in feel, sound and often looks.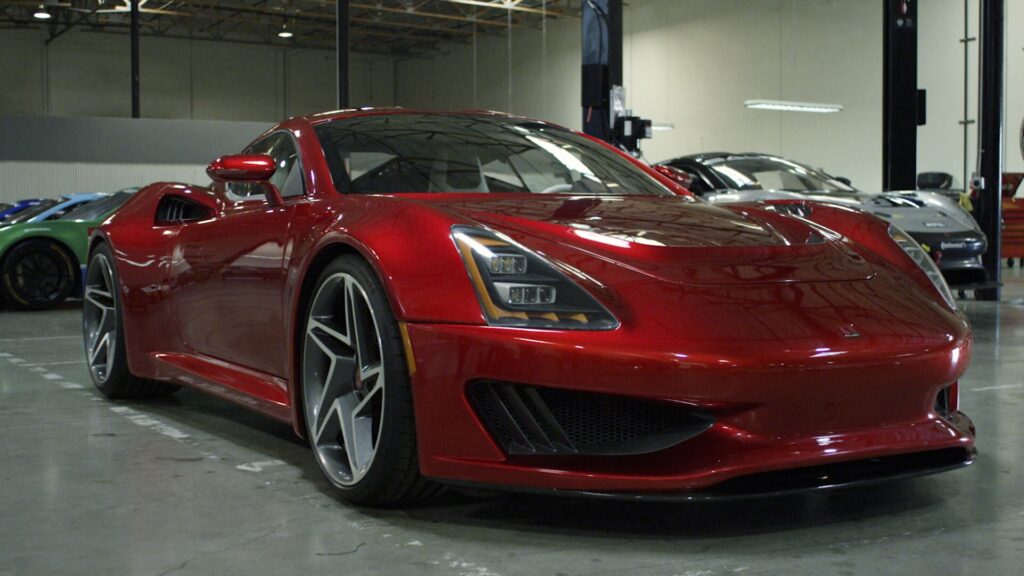 DRM: The Stratocaster 1 is a marvel, it is an unbelievable depiction of how a Saleen would be with strings rather than cylinders. The obvious and subtle design cues, the ingenious pedal board and the list goes on. What was it like for you, an obvious car buff working on this project?
RT: Building and collecting car themed guitars has been a bit of an obsession of mine for decades. There are dozens in my personal collection, including everything Fender has done with Ford and Shelby and of course a few I've built myself. My previous company, Thorn Guitars, was well known for doing the same types of car inspired guitars. I can't count the number of guitars I've built specifically to match a customer's vehicle. From Ferraris and classic Shelbys to '32 hot rods and modern Jaguars, I've done it all. The Saleen project came about by a chance meeting at a local bar. I saw a gentleman sitting there in a Saleen shirt, and since Saleen Automotive and the Fender Custom Shop are both located just down the street, I assumed he was an employee. We struck up a conversation and it turned out we were both huge classic Ford Mustang fans sharing many stories about the various ones we've owned over the years. Of course, being who I am, I immediately started thinking about how we could collaborate on a build. I will say I felt the greatest satisfaction the first moment I showed it to Steve Saleen. You can imagine having another company taking something you've designed and created and incorporating it, somehow, into a totally different product. I'm sure he was a bit nervous about its execution. I know for a fact I would have been. His eyes lit up, and he had a huge smile when I first opened the case. He loved it, and I was so relieved! He asked if I was the designer. I said, "well, I built it." He then asked, "then who designed it?" I was a little lost for words because that's not a typical guitar building phrase, so I finally managed, "you designed it, I just stole your lines."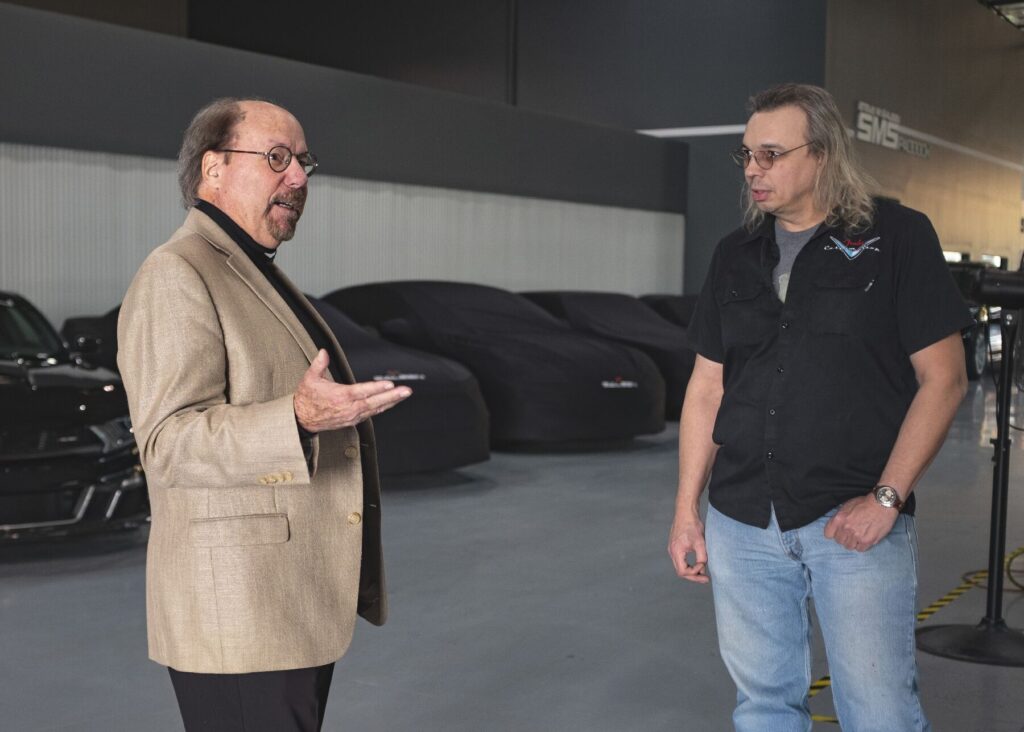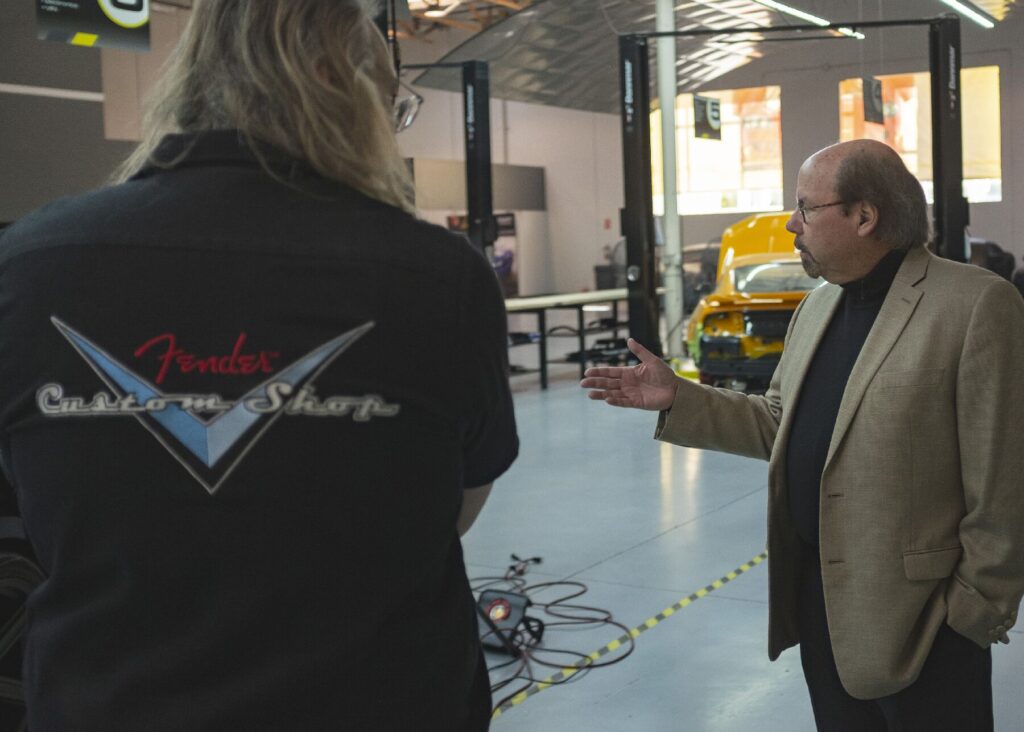 DRM: Would you be able to give a comparison of what it is like to play the Stratocaster 1 and drive the Saleen 1?
RT: All of my cars have always been classics. I own a recent Shelby Daytona Coupe, but I still consider that similar to a classic having no computer, no ABS, a carb, etc. The Saleen 1 is essentially a state of the art high performance road legal race car and everything that is expected from that. It's handling, it's torque, it's braking. I've never experienced such performance in all fields. On top of that, it's flat out stunning to look at. The rear haunch in particular is so beautiful. Trust me when I say I'm making mental plans on what to sell in order to get my name on the Saleen 1 wait list.
DRM: How many Stratocaster 1s will be made available?
RT: This will be the only Stratocaster 1 built. Each Fender Custom Shop Master Builder is responsible for building one "Prestige Collection" guitar for each Winter NAMM show. Each year, the Fender Custom Shop's esteemed Master Builders are given a challenge to build a guitar with no boundaries. The result of that creative exercise is the 2020 Prestige Collection models with one conjured up by each Master Builder. These are all true one-offs, never to be recreated and are usually photographed and appear in the Fender Custom Shop calendars. This is my Prestige for 2020. I'm hoping it gets on the cover of the Fender Custom Shop calendar next year.
DRM: You've done other automotive related guitars. Did you approach the Stratocaster 1 the same as other past works?
RT: The Stratocaster 1 has been a much more involved process than any other automotive-themed guitar I've built in the past. In fact, it ranks up there as one of the most challenging builds I've done to date with any theme. I originally considered sculpting it out of clay, like a true car designer, digitizing it and relying on CNC from there on out. The two main reasons I didn't go that route was that since it was going to be a one-off, the time I spent sculpting might as well be spent carving the actual plug and wood top instead. Secondly, this would allow me to build it entirely with my own hands. Much more analog than how I usually build. It somehow felt a little more hot-rodding while improvising and modifying it along the way. Some of the important details, such as the neck angle, the bridge location and the string's break-angle to the tailpiece I drafted in CAD, but all the contouring and shaping I simply sketched on the wood parts with a pencil and started chiseling away with various gouges, scrapers and sandpaper. I knew I was in for a large learning curve both with the creation of the fiber glass mold and the subsequent carbon fiber layup in the mold. The fiberglass mold of the wood plug was almost a comical scenario. I had resin and chopped fiberglass everywhere. Everywhere! Up my sleeves, my hair, my cell phone was stuck to my face with resin for a moment, it was a nightmare. Yet, the next morning when I popped it off the wood plug the side of the mold that counted was flawless! Next up, the carbon layup. I sure learned a lot from that, namely the limitations on the flexibility of the carbon sheets. I would push it down in the bass-side horn and it would pop up in the treble-side horn. Go back to the treble-side and it would pop back up on the bass-side. I felt like Curly from the Three Stooges trying to eat the clam soup. After a few attempts and a lot of scraped cloth, I finally had a good layup, four layers thick, that I vacuum bag into a nice Stratocaster shaped "salad bowl." From there, designing a bridge, the tinted rear window pickup cover, the Saleen emblem tailpiece… that came relatively easy for me. I've had plenty of experience with similar projects. Saleen offered to paint the guitar's top using their same formulation and technique for a perfect match to the car, that alone was an honor.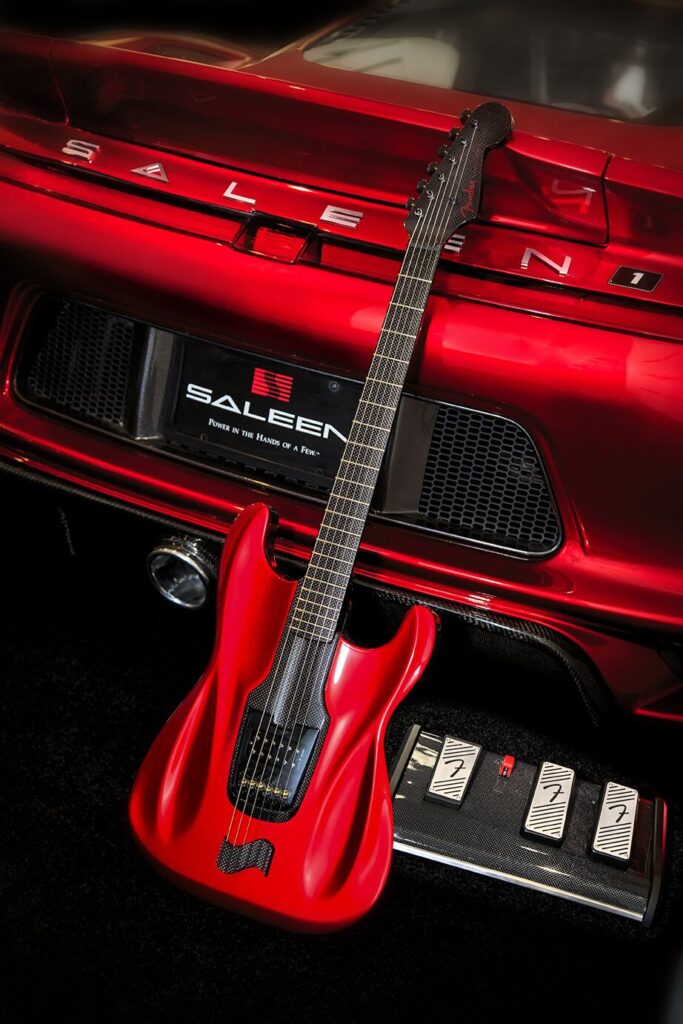 DRM: Fender is iconic for so many things. The sound, quality, history, influence on culture and so forth. What's it like being part of all that?
RT: It's been incredible. I can't imagine working for any other guitar company and having as much pride, care or love that I have for Fender. I've been such a fan of the product for my whole guitar-playing life that I still think to myself, "I can't believe I'm doing this for a living!" This is a feeling the majority of the employees share too, which is why I feel Fender guitars are so amazing. When you're a fan of the product and you know that the recipient is going to love it, be inspired by it and use it to create, that sense of pride and responsibility makes you want to constantly strive to build the best guitar you can.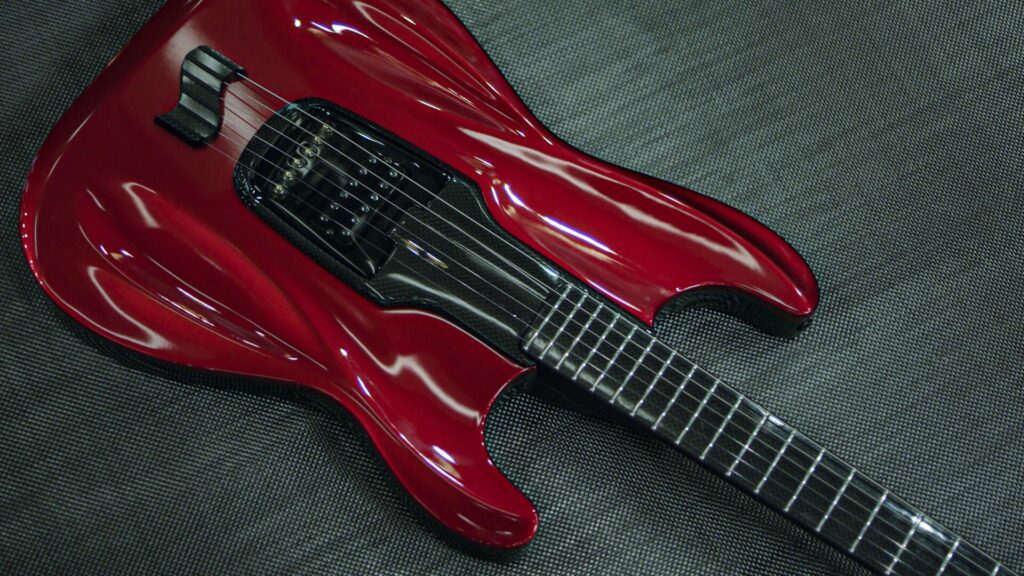 The Saleen 1 inspired Fender Stratocaster 1 needs to be experienced. It needs to be seen in person, played and heard. Like the car, it's jaw dropping. The Saleen 1 and Fender Stratocaster 1 are both testaments to what skill and passion combined can accomplish. To learn more about the Fender Stratocaster 1 and Saleen 1 visit the links below and be sure to follow on social media.
Video of Building the Saleen Stratocaster 1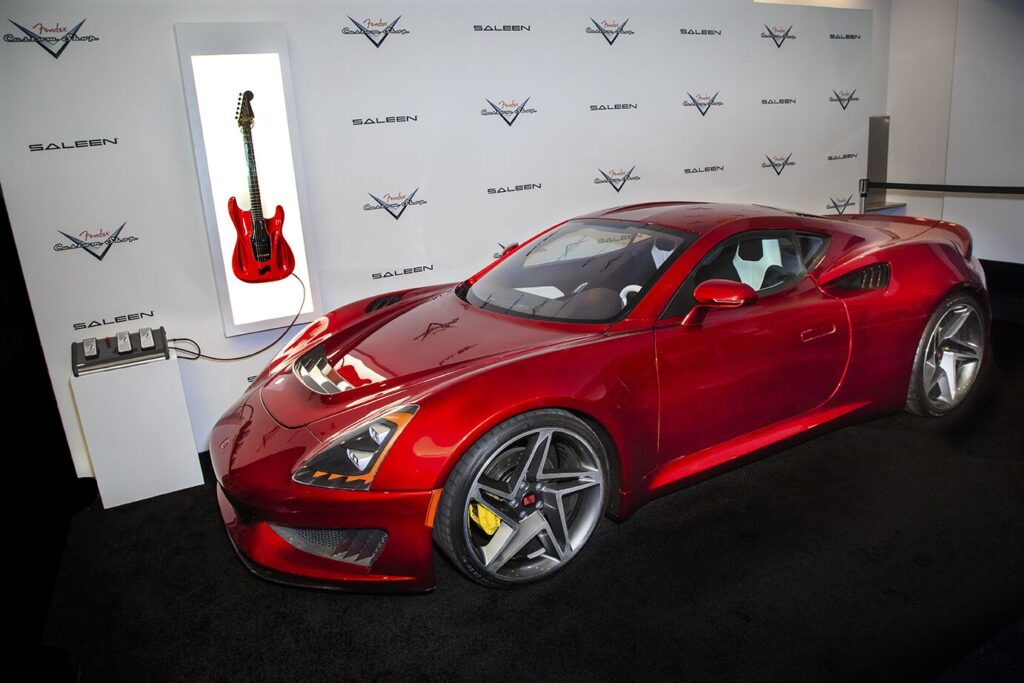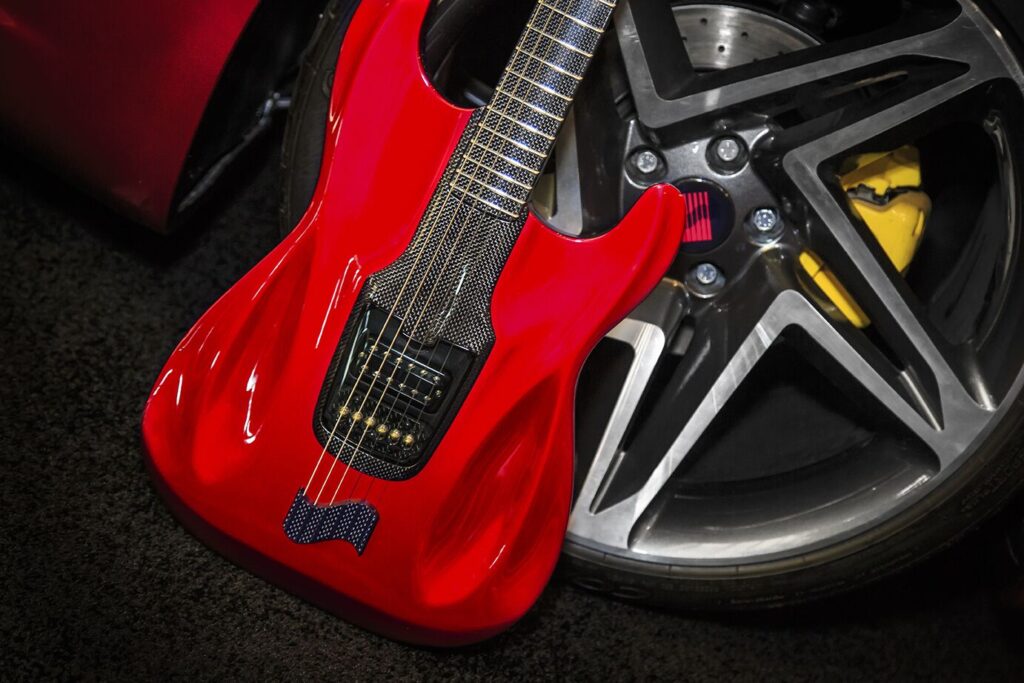 This story is dedicated to Charles Vaccaro and Joe Segreti.