Words: Robby Pacicco
When it comes to sheer driving enjoyment, it's not always about breakneck speeds. Most of the time it's about the much talked about and unofficial stat called "smiles per miles". Horsepower, torque, handling, quarter mile times and whatever else is normally measured doesn't always describe what is pure driving enjoyment. The unadulterated power of a McLaren Senna or Bugatti Chiron will forever be glorified by magazines, blogs and YouTube videos for eternal click bait. The petrol heads or gearheads on a realistic nine to five budget will still have these five classics to look to for ownership and corner carving fun. They aren't the fastest nor are they the best. They are however fun and worth ownership when loving cars and the paycheck is prioritized for more important things, like rent or mortgage. Here are five of some of what are often considered forgotten fun cars. Love them or hate them, these five rides are fun to somebody and agree or not it is somebody's opinion, which is why respect is more important than right or wrong.
Porsche 944 (1982 – 1991)

The Germans are known for gifting cardom with the 911. An out of ordinary layout of rear engine automotive bliss with a cult like culture worthy of even some Hollywood types. Porsche however has put the engine in the front of the car a few times and we are richer for it. One such example is the 1980's poster child, the 944. Yes, the Porsche 944 is not considered a high-end collectible as of this writing, but with the status of people like Jerry Seinfeld and friend of Do Rev Mi Magnus Walker purchasing them, the front engine Porsche proves to be a nominee for future classic and current ride of refinement. Be it in naturally aspirated or turbocharged, The 944 is a budget conscious contender with a slew of aftermarket modifications available. If modifications are not the cup of tea, the Porsche with a transaxle is still worthy to would be owners just because it is not the norm among the brand. It handles with precision and is a choice of track going gurus for a reason. The 944 is a perfect choice for anyone looking to join the ranks of pure Porsche ownership as long as they become familiar with why it exists and what it can do. Mathematically speaking, 944 is greater than 911. It is however totally up to the passion of the owner and driver to prove this point, specifically at a bargain of the price. Besides, the 944 has pop up headlights. Pop. Up. Headlights. Who wouldn't want a car they can play peek-a-boo with.
Sountrack: INXS, Duran Duran, U2, Hall & Oates, Bon Jovi
Honda Prelude (1997 – 2001)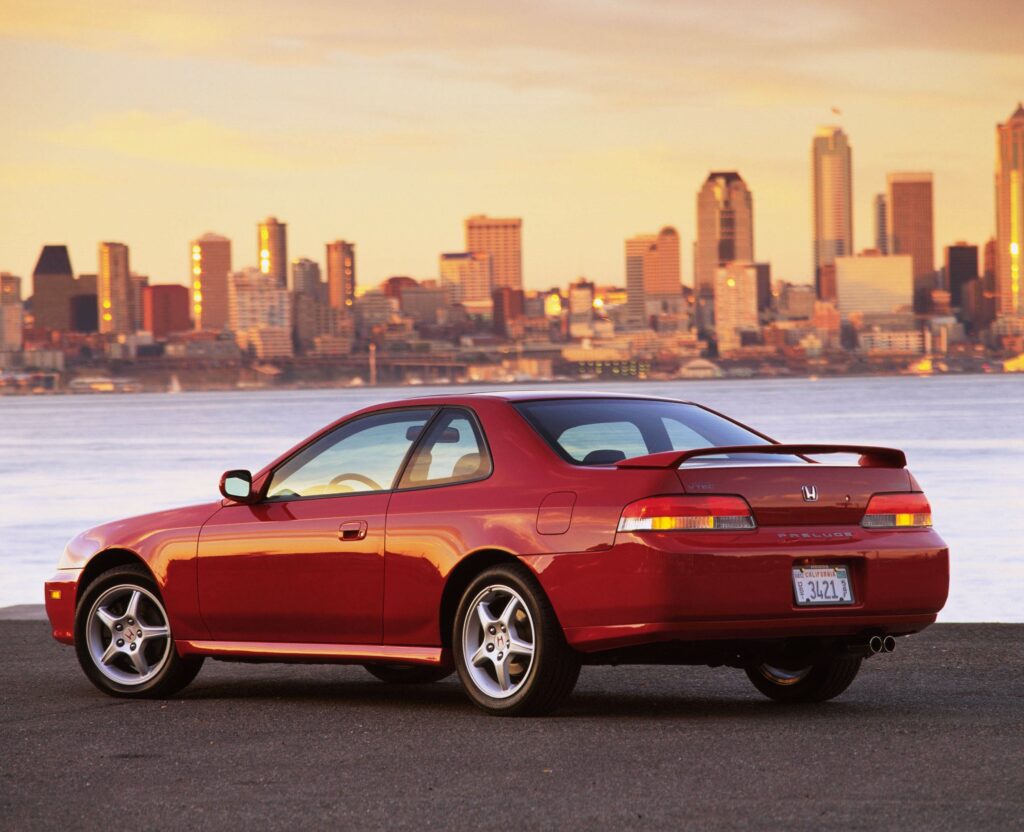 That's right, it's not all about Civic Nation when it comes to this Japanese heavyweight. The Honda Prelude became famous during the 1980s and for a short time at the turn of the millennium was the choice of college students wanting something fun and reliable with flare. Providing proven Honda reliability and livability, the Prelude came equipped with unmistakable coupe style and affordable front wheel drive confidence. Never the fastest or the most furious, the Prelude was a pure Honda performance vehicle which is standing the test of time. This particular generation of the Honda Prelude met us in the late 1990s and has been appreciating in value amongst budget conscious new comers to the sporty coupe genre since. The overall look of the machine screams svelte sexy and invokes long-term ownership confidence, especially with the big stylized "H" on the hood. An actual fun and fuel efficient package, something very rare to find is definitely worth a look for anyone shopping for a quick toy to drive day in and day out, or mod up for a track day every once in a while.
Soundtrack: Chemical Brothers, Notorious B.I.G., Prodigy, Moby, Jamiroquai
Volkswagen Corrado (1988 – 1995)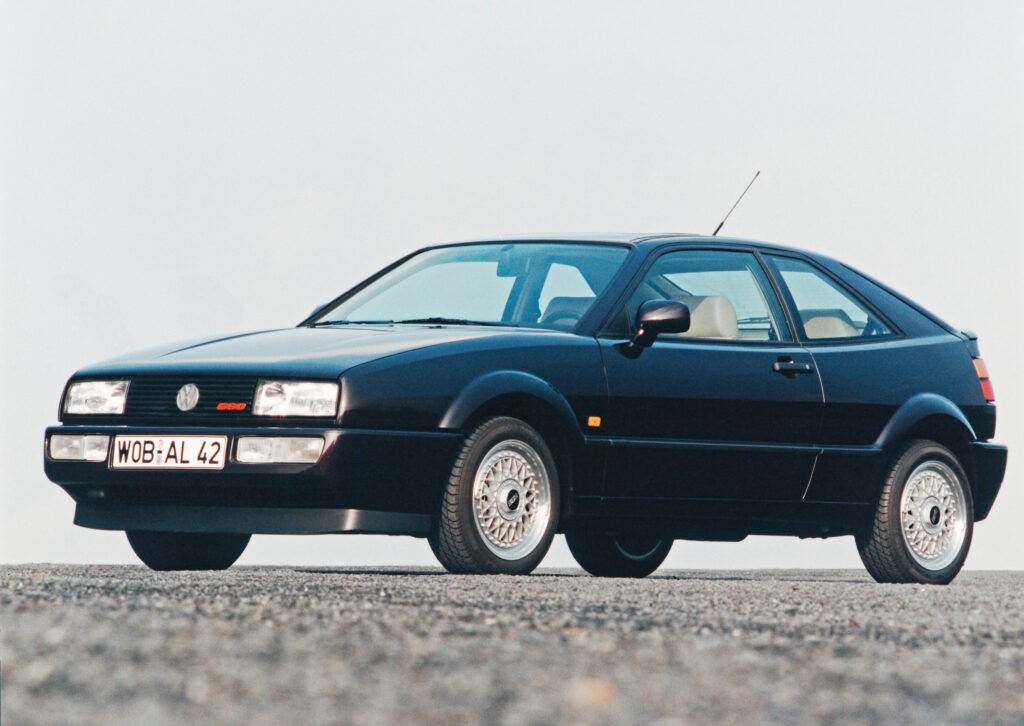 The legendary engine known as the VR6 from VW has been applied in several of the company's models over the years. None more deserving and famous as the 2+2 bombshell named Corrado. An ingenious engine practically considered an inline "V" shaped" phenomena, the Corrado was a compact hatchback destined to one day be a trophy. The unmistaken silhouette of a European sport hatchback allows the Corrado to this day be seen as a definitive classic. It only requires six cylinders to move the tarmac beneath it in order to give the driver a sensational experience. The VR6 powered Corrado is considered a foundation block amongst Volkswagen faithful along with the original Beetle, Golf GTI and the Scirocco. The Corrado being somewhat less regular on the road is considered a treat to its fans. On the rare occasion when an example is available for purchase, it will come with a back story and not be for sale very long. Call it a BMW on a budget or a Porsche with personality, the VR6 Corrado needs a driver that appreciates it with all its quirkiness and ensuing "is that an old Audi" inquiries.
Soundtrack: R.E.M., Nirvana, Alice in Chains, Our Lady Peace, the Black Crowes
Toyota Celica (1999 – 2006)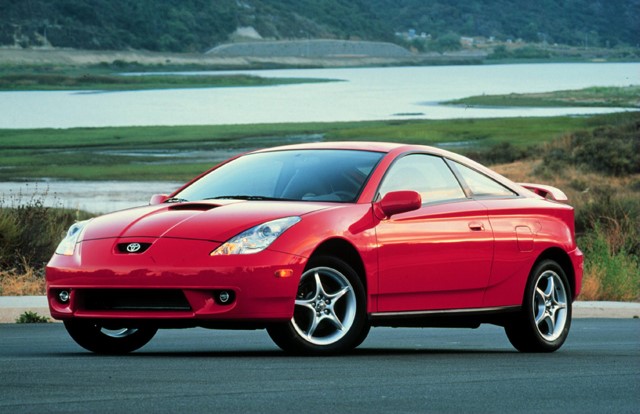 The same manufacturer that gave us the Supra and even the older generations of AWD and turbocharged Celicas, Toyota provided us the somewhat tame 1999 to 2006 Celica. Tame is not a negative word by any means when describing this generation Celica. Styled to be eye catching when new and still so 20 years later, the seventh generation Celica is today as it was back then a high revving slick sports coupe. The quality Toyota is celebrated for is abundant in every corner of this machine. It might not have the turbo of generations past or link to rally racing, yet this particular Celica is sharp in design and in regular day-to-day driving. To the gym, to the office, to the store, it's to the point. With an engine no larger than an almost laughable naturally aspirated 1.8L in either GT or higher performing GT-S form, the Celica is no joke and a reasonable choice for fun daily driving. If that isn't enough to convince would-be buyers, they just need to find out what is the engine in the Lotus Elise and Exige. Yes, it's the same engine. Not bad for a Toyota Corolla sourced powerplant.
Soundtrack: No Doubt, Soundgarden, Oasis, Jeff Buckley, Lenny Kravitz
Ford Mustang GT (1994 – 1995)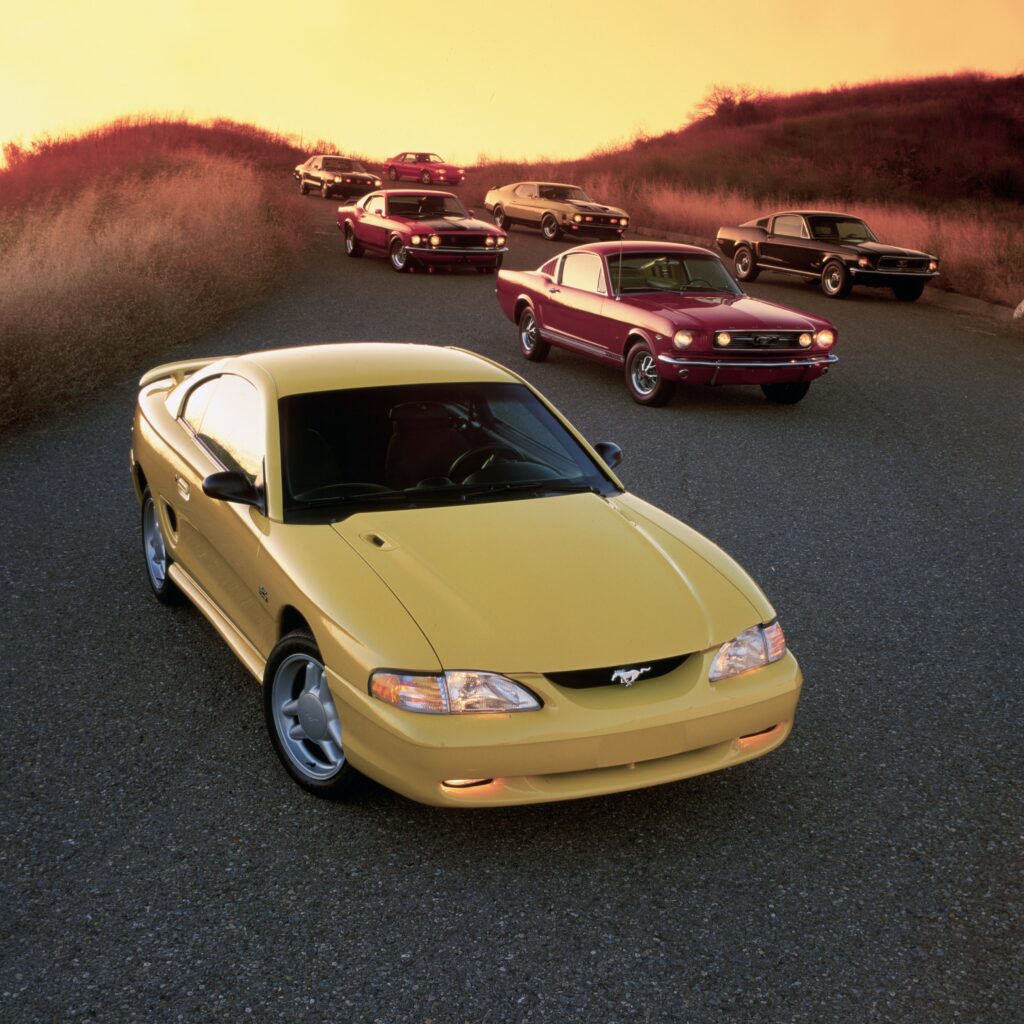 Yes, it's a Mustang and no it's not exactly extraordinarily fast. When Ford departed from the very box like "Fox" bodied Mustangs they were known for from 1979 to 1993, they decided to keep the famous 5.0L pushrod V8 engine their pony car had become synonymous for. The five-o remained with the then newly designed and cutting edge looking version of America's favorite muscle car, though short lived. It only stayed on board for the 1994 and 1995 model years which now means two things. One, there aren't many left out there that might remain in great condition. Two, not many people want them because they are considered underpowered by muscle car standards. The latter means they will remain affordable until the car gods decide it to be a collectible relic. With that said, the heavens must have sent a message down to earth considering the Mustang nobody seemed to have wanted a few years ago is now entering an era of renaissance. Despite the lack of initial power, the exhaust note sounds phenomenal and the entire car is very easily upgraded with the abundance of available aftermarket performance parts.
Soundtrack: Aerosmith, Metallica, Guns n' Roses, Alice Cooper, Joan Jett and the Blackhearts