Riding With Jimmy
Words: Robby Pacicco / Photos: Courtesy of James Dean Inc. (www.jamesdean.com)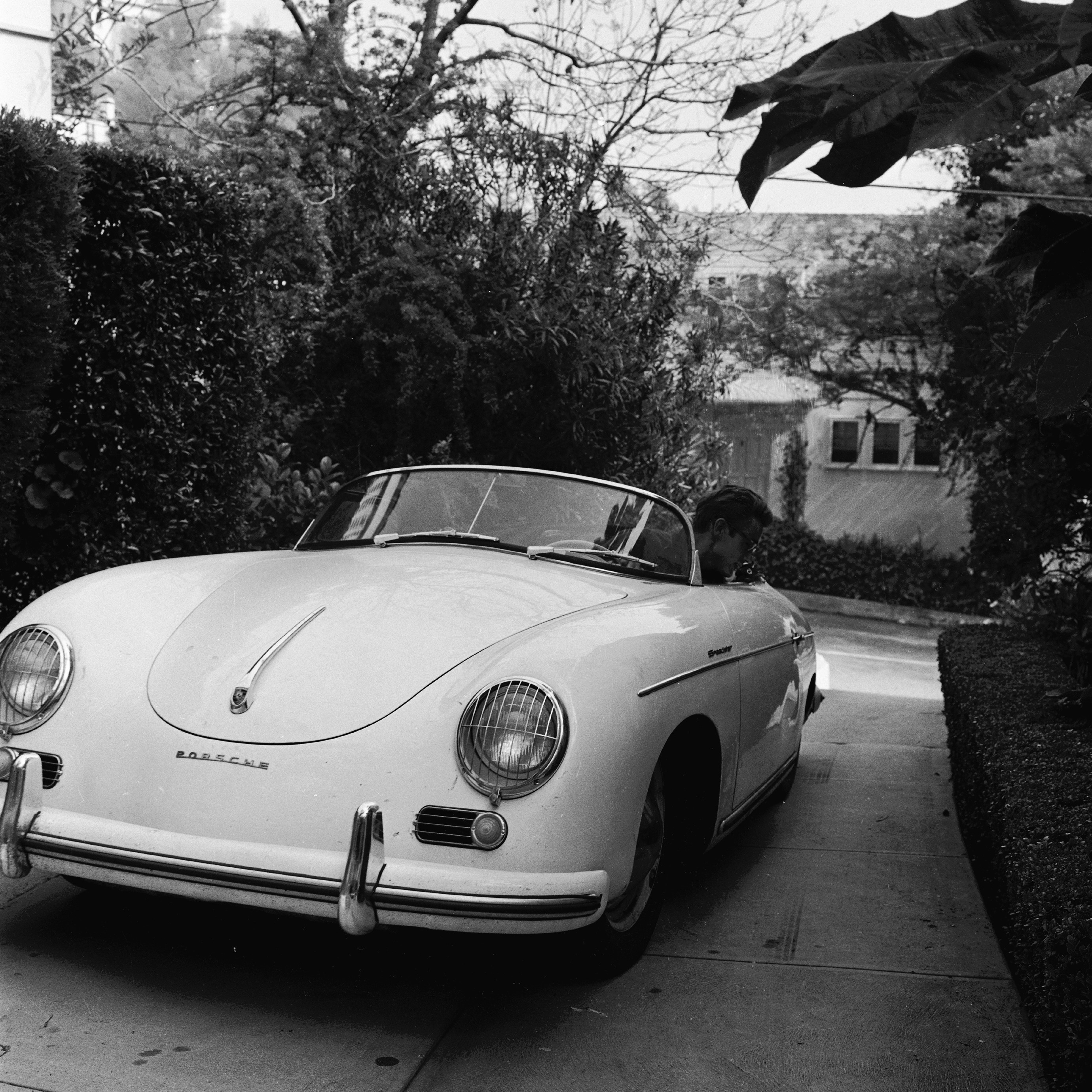 The sun was barely up, yet still just enough to see the fiery golden reddish glare over the horizon peeping out over the terracotta rooftops. It was eerily quiet at 7:00AM on Saturday except for the sound of chirping birds and the faint sound of an engine in the distance, getting closer and closer. Someone turned the dial on a radio in their garage and one of the most popular songs of the day was playing over the static filled AM signal. The engine was closer, louder. An enthusiastic and youthful voice on the radio squawks, "… and that was Shake, Rattle and Roll by Bill Haley and his Comets from 1954. Yes folks, that hit is already over one year old! Enough reminiscing, let's look at what today will be like! It is going to be a cooooool, crisp and sunny September 24th! The Brooklyn Dodgers will take on the Pittsburgh Pirates tonight at…" The engine was not far now, drowning out the radio. Every downshift and upshift was audible, not far at all. A white 1955 Porsche 356 Speedster came to a calm halt at the curb where I stood. "Good morning, sorry I'm late. I know I said seven, I'll make it up to you." he said with a boyish smirk. Looking at my watch, it was two minutes after seven. I laughed and walked over to the passenger side as he opened the door from the inside. Taking a quick drag from his cigarette he then introduced himself, "Hello I'm James, pleased to finally meet you."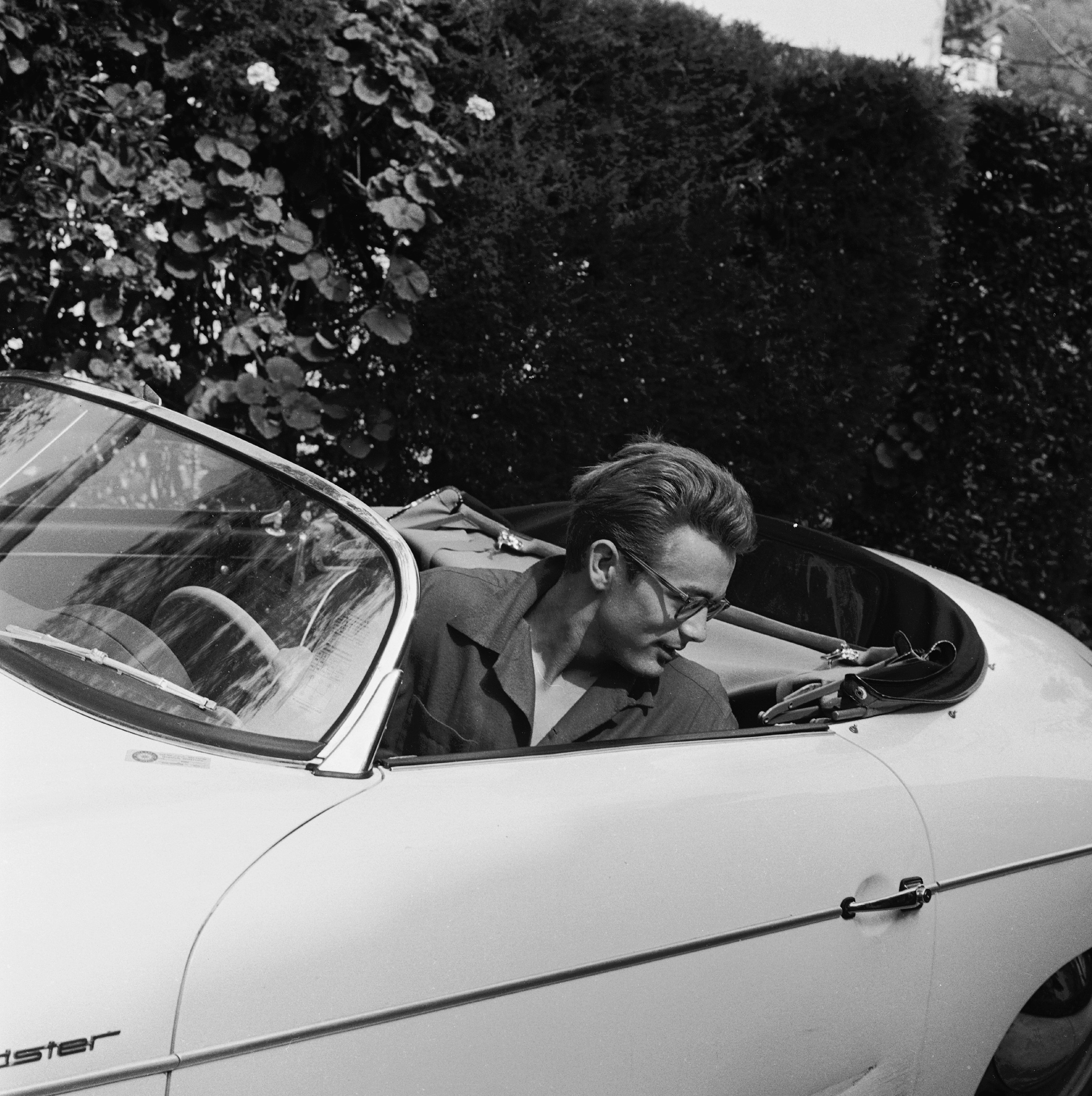 James Dean and I had a mutual friend who thought it would be a great idea for us to meet and discuss similar interests. Cars, music, films, art. Passions we shared and subjects we both loved to discuss in great detail. "Thank you for taking the time to do this Mr. Dean." I said, "I understand how busy you are especially with your work and racing schedule." He started driving and his dangling cigarette barely secured between his lips didn't fall when he responded "Please, call me James." he upshifted his Porsche, "When Natalie told me about you, I felt it was a great idea. I don't normally get a chance to just drive and talk, you know? Be away from the camera. Be a normal person." I felt a little guilty since our conversation was going to serve as a foundation for a project I had in mind. "So," he said, "where do you want to go?" I thought about it a moment and then answered, "Let's go to where James escapes to? You know, to be James Byron Dean, to be yourself." Taking the final drag of his fading cigarette, he then tossed it out of the open top sports car. Looking over at me and laughing, "I thought you'd say let's go to Oscar's for some coffee but that question is much better." Without an actual destination to go to, we headed towards it still as he pulled onto the main boulevard. "I love to do a lot of things to escape" he blasted through an intersection without any other vehicles. Thinking for a moment before continuing, "I can easily get lost in writing, photography and painting. Then there is my love of motor racing, listening to and playing music." Reaching the next traffic light, he puffs smoke out of his nostrils from another cigarette which I never saw him pull out and ignite. Looking like a serene photograph of himself, the wind flowed through his hair as we stood still for the light to change green. His famous face squinted as the sun partially blinded him. Manifesting his sunglasses from his shirt pocket and putting them on, James continued, "I also enjoy bullfighting and riding horses. I guess the farm boy in me is responsible for that." Despite my curiosity and wanting to know if he was an amateur matador or just an enjoyer of the sport, I followed up on my first query, "You said you listen and play music? Like, what do you listen to? What do you play?" The actor transformed to a race car driver as he pulled away from the traffic light in a hurry, screeching the tires and flogging the gears one by one. Once up to a comfortable cruising speed he had both hands on the steering wheel, "I like to listen to a lot of different music. I enjoy Frank Sinatra and Judy Garland like everyone else, I guess. My favorite song is probably When Your Lover Has Gone sung by Billie Holiday. I love that song, I love her voice." Passing what few cars were on the road, his musical taste continued to unfold. "Then there are the more non-traditional sounds I enjoy such as African Tribal and Afro-Cuban music. That's a big part in why I love to play music, especially the bongos." Despite his dark sunglasses covering his Hollywood eyes, the passion gleamed through them when he discussed his taste in music. He proceeded in describing his top pick for the album he played over and over, Sinatra's Songs for Young Lovers.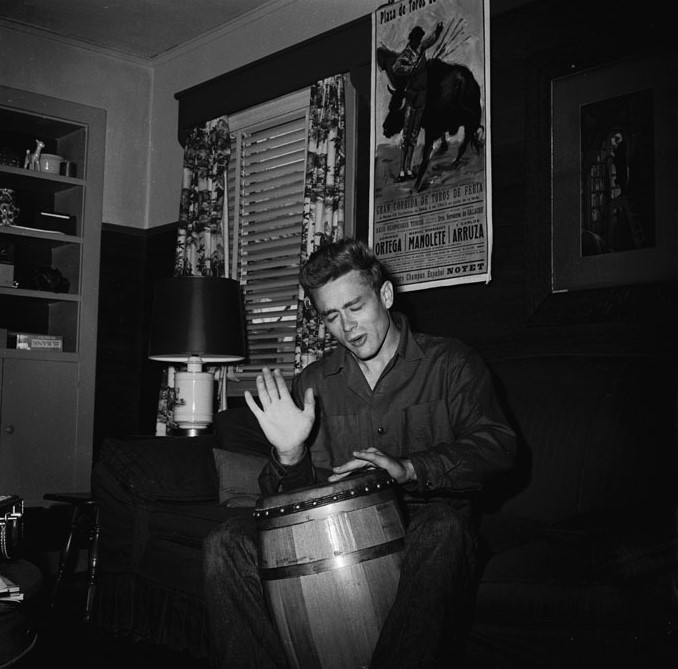 As we continued to take our time to reach Oscar's for some eggs and coffee, our conversation continued, passenger and chauffeur. "This is really a great little car." I said as I looked around inside the car and up at the sky above us. "Thanks," he replied, "This 356 Speedster is just a great toy. It's fun, and fast." Another red traffic light had us waiting with a black Oldsmobile to our right. Barely noticeable from the Olds' radio we overheard Mr. Sandman performed by the Chordettes. Green Light, "Take care, Mr. Sandman." I managed to joke and James laughed. "So you said you love to race cars?" I threw in another question. Without hesitation, "Well I love to drive, if you couldn't tell. But more than that, I love to compete and race." The race car driver took over again as he threw the German machine into a tight right handed corner before launching us into a straight line of pure acceleration and high revving engine sounds. "I race cars when I can and I absolutely am hooked to the thrill of it. The sounds, the smells the feeling of it all. The added danger just adds to the romance, you know?" I knew exactly what he was talking about, I understood fully. "Natalie told me you had a script about a race car driver?" he asked. Surprised, I responded "Actually, it's an idea I have more than a script. Ms. Wood arranged for us to meet for you to help provide some inspiration for the main character development." He looked over at me for a second. That second felt like an eternity as I thought I angered him. "That's great!" he exclaimed, "I've got something to show you after Oscar's that I think might help you even more." We pulled into the parking lot at Oscar's Diner and then pulled right back out. "No coffee?" I asked. "No coffee." he confirmed, "We can get Oscar's later. There will always be time for that." I didn't ask where we were going, but he seemed sure it would be to my benefit. We chatted some more about his acting roles and two upcoming films titled Rebel Without a Cause and Giant. He seemed very proud of his characters in both films and I looked forward to watching them, especially that our mutual friend Natalie co-starred in Rebel Without a Cause.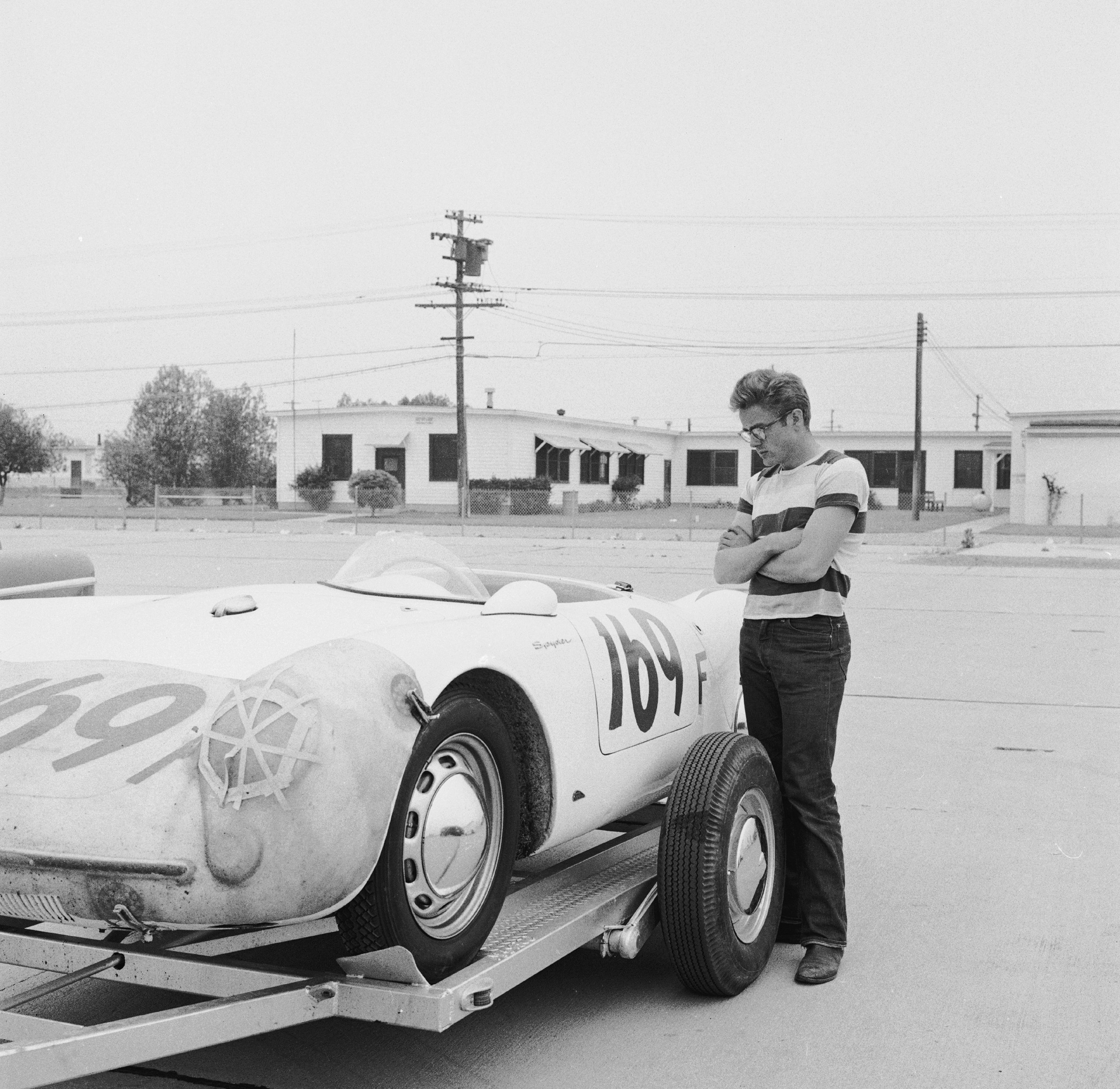 Arriving at a red brick building with a white garage door and chipped paint, he switched the ignition off, "Come on, you'll want to see this." He told me while exiting his white car. I climbed out of and shut the door carefully and proceeded to follow him. "Wait right here." He ordered as I stood in front of the garage door. Entering from a side door, I lost sight of him. Moments later the garage door opened and I walked on in. No lights were on and the dust danced in the available sunlight until I saw a shape. I walked towards what looked like a giant white bed sheet covering a lumpy and curvy table. "James?" I called out. "Right here" he called back out, from behind the awkward covered shape. Having adjusted to the darkness, my eyes took in any rays of sun coming in from the open garage door to better make out the silhouette under the bed sheet. It wasn't a table. "Let me get the lights on so you can see better." He turned and switched on the lights for us to see properly. Pulling off the sheet in one careful yet swift action, "Meet Little Bastard." he said. He was right, inspiration flowed in instantly and the script finished writing itself in my head that very moment. "It's a Porsche 550 Spyder. I call it Little Bastard. I'll be racing her next week in Salinas." He kept talking about the silver Spyder as I walked around it, feeling the metal of the body with my fingertips. Tracing out the vents as my hands went over them. "You should come to Salinas next week to watch the race. Get some ideas and feel for the script with some authentic atmosphere." I agreed without saying a word. There I was, standing next to James Dean, star of the film adaptation of East of Eden. A story which partly took place in Salinas, California where he just invited me to watch him race his Porsche, his Little Bastard. I couldn't wait! "Hey James," I managed to finally say, "Oscar's can wait." He nodded and fired up the race car. He revved the engine, hopped out enthusiastically, lit another cigarette and bellowed out, "You said it, Oscar's can wait! Let's talk about next week's race"
-Fin-
This story was inspired by Joan Jett & the Blackhearts song titled Riding with James Dean. The events and situations described never took place and are pure fiction. This piece was written for the sole purpose of creative storytelling. All information about James' love of music and racing are portrayed based on factual information sourced by jamesdean.com. Do Rev Mi thanks jamesdean.com and Nick Cassady of CMG Worldwide for their support and helping make this piece possible.
James Dean perished in a car accident while on his way to Salinas, CA for the race on September, 30th 1955. He was driving Little Bastard. In 1956 he was posthumously nominated for the Best Actor Academy Award (Oscars) for his role in East of Eden and again for the same award in 1957 for his role in Giant.