Words: Robby Pacicco / Photos: Courtesy of Bruce Pascal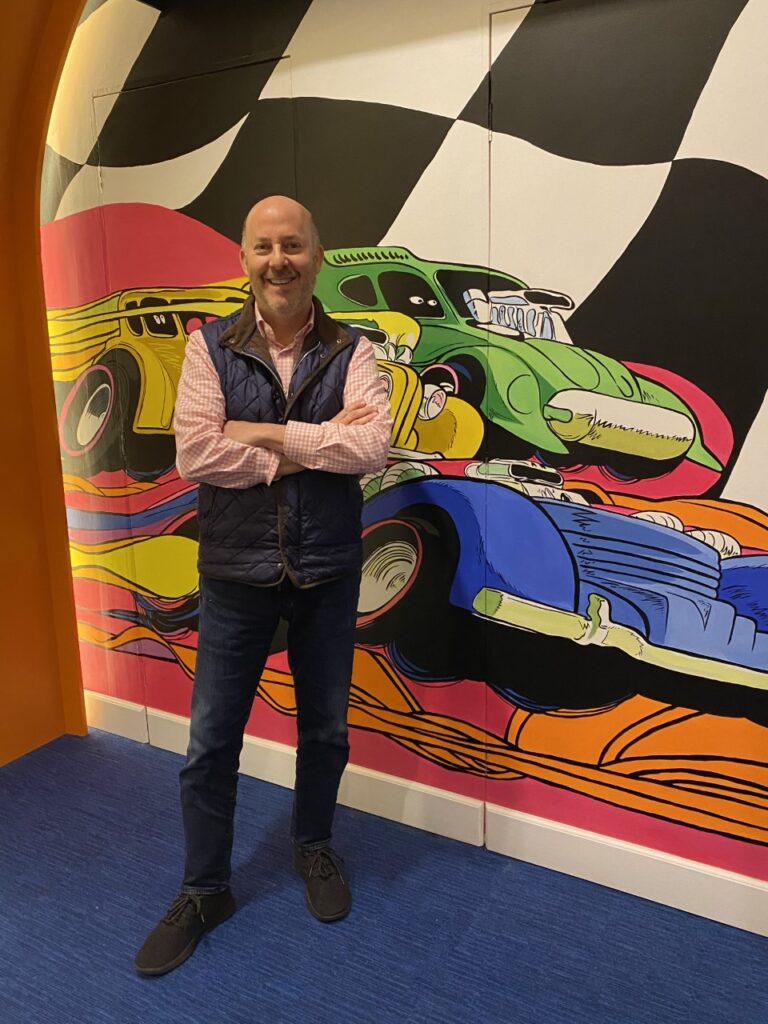 It doesn't matter if the '60s are a memory or a time before your existence, it supercharged future generations with an adrenaline shot of absolute white hot coolness. A revolutionary time that gave so much and still keeps on giving. Not only did the decade present us with fantastic music, American muscle and European sports cars, but also the first ever patent for the hot tub. The basic thought process of society changed. The avenues of expression and creativity became five lane expressways without speed limits. Then in 1968 when Mattel presented Hot Wheels to the world it ignited the scene with the sparks coming from its stylized flame logo. These small toy cars with colossal charm would go on to become considered the coolest toy of all time. Incredible little cars that inspire imagination, creativity and endless hours of play. Like many children since Mattel's introduction of their enjoyable pocket-sized cars, real estate expert, Hot Wheels collector, ambassador and enthusiast, Bruce Pascal fell in love with the affordable eye catching toys. Growing up in Silver Spring, MD, he'd spend hours doing what kids do best; playing. The care free days of hanging out and playing with his neighborhood friends and two brothers draws up images of classic Americana. Big, hulking Detroit built land yachts parked along the curb, ringing bicycle bells and friendly "how do you dos" as someone walked on by. How appropriate considering in front of the Pascal house sat an already classic 1929 Buick. Bruce explains "There were so many kids in the neighborhood to play with and of course, we were known as the antique car family. Then in 1968 the greatest toy of all time was introduced, Hot Wheels!" The absolute enthusiasm Bruce expresses for a toy he's know his entire life minus a dog year is completely contagious and engaging. "I have vivid memories of my Hot Wheels case holding the cars and the orange tracks. My two brothers and I would use the orange tracks like swords and hit each other! Of course only when we were not using them to race cars." It's easy to visualize the experience and the hours of pure enjoyment they must've had.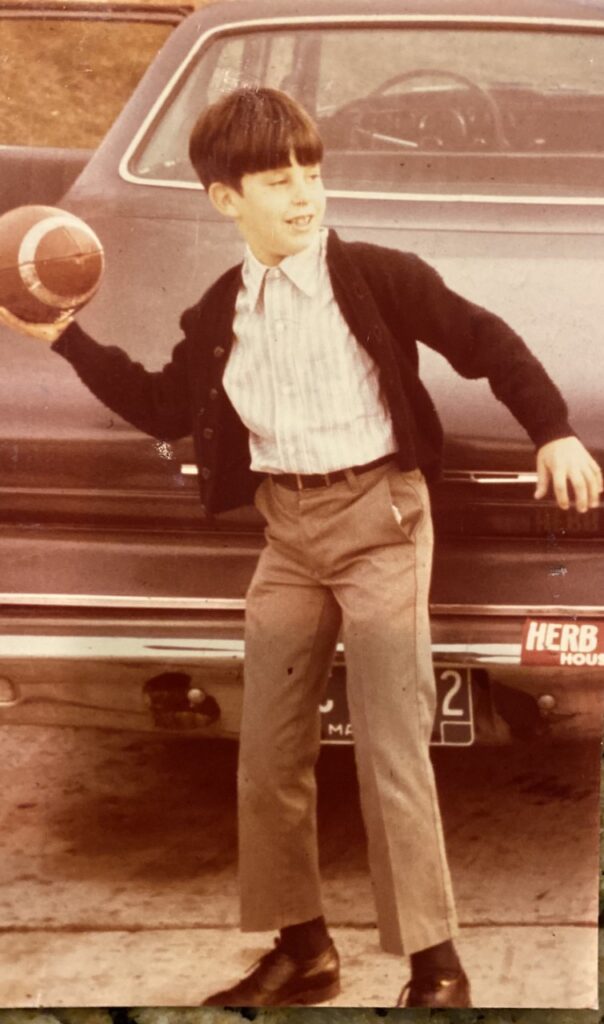 The passion for having fun with these tiny automobiles didn't just end there for Bruce, it went beyond simply racing them or collecting and trading them like baseball cards. Somewhere down the line from buying toy cars normally costing a dollar or less he'd eventually purchase cars he could actually sit in and drive. Real cars. Apologies, let's reword that: Really cool real cars. "My grandfather was the transportation expert at the National Archives and he probably was the foremost authority on the history of the automobile. He passed away when I was two years old and my parents inherited thousands of books on cars, toy cars, car puzzles, original sales brochures and more." The sap in the Pascal family tree is unquestionably high octane fuel. "Driving with my father in the 1929 Buick was a weekend treat and when I was around seven years old, we started attending car shows together." Around this time young Bruce would start dreaming of cool cars and who could blame him? Especially considering Hot Wheels hitting the market and Steppenwolf releasing Born to be Wild all in the same year. "I've had over 35 "fun" cars since I was 16 years old including a 1940 Buick, a 1960 Imperial, a 1970 Dodge Charger R/T, a 1991 Acura NSX and eventually a made to order Maserati Gran Turismo."
Bruce still pays tribute to his formative years of the '60s and '70s in several ways and not just via his jaw dropping collection.  He doesn't sport a perm, wear platform shoes or drive around in an old flashy Volkswagen Samba-Bus.  Well, that last bit might have been possible if he had ordered one of those toy shrink-rays advertised in the back of an old comic book positioned next to the ad for pet sea monkeys.  For those unfamiliar with Bruce's collection of rare Hot Wheels, this is where the shrink-ray will make more sense.  The rarest Hot Wheels of all time happens to be within his possession.  It is officially known as the Pink Beach Bomb, an eye catching bright pink VW Bus with two little yellow and orange surfboards that load in via the rear.  It's flashy and it's absolutely perfect.  Knowledgeable collectors and Hot Wheel hobbyists consider this particular example to be the proverbial crown jewel of all Hot Wheels.  Just looking at it evokes thoughts of having fun, fun, fun surfing all across the USA.  Now wouldn't that be nice?  "To this day I mostly listen to channel 7 on XM radio – All '70s" says Bruce.  "What a coincidence that Hot Wheels was called "California Styling" and the most famous one is a Volkswagen Bus with surfboards hanging out the back.  If that doesn't conjure up the Beach Boys I don't know what else does."  What makes this mini beach-mobile so important and extremely valuable is much more than the sheer exclusivity of it.  "In 1969 Mattel wanted to release a VW Bus." describes Bruce, "They designed it and then made a group of 144 for testing.  Once they put it together and tested it on the track and accessories they noticed a huge problem.  It was tall, skinny and would fall over on the track.  That was a major issue so they quickly made the car wider and put pockets to hold the surfboards on the side.  That model was produced and was a big hit.  But what about those 144 prototypes?  Well, many of the employees took them home and about 50 are known about today.  Only two are pink, a really pretty color on the car.  The one I own is in the best condition and is considered the Holy Grail of the hobby."  Despite the strong link to surfer lifestyle, a VW Bus has another side of the hubcap and that is its association with the hippie movement.  "Nothing looks like Woodstock more than this car, Hot Wheels wise" exclaims Bruce.  He's Grateful Dead on right.  The pint-sized pink prototype VW is as unique and revered as the original 1969 three day music festival itself.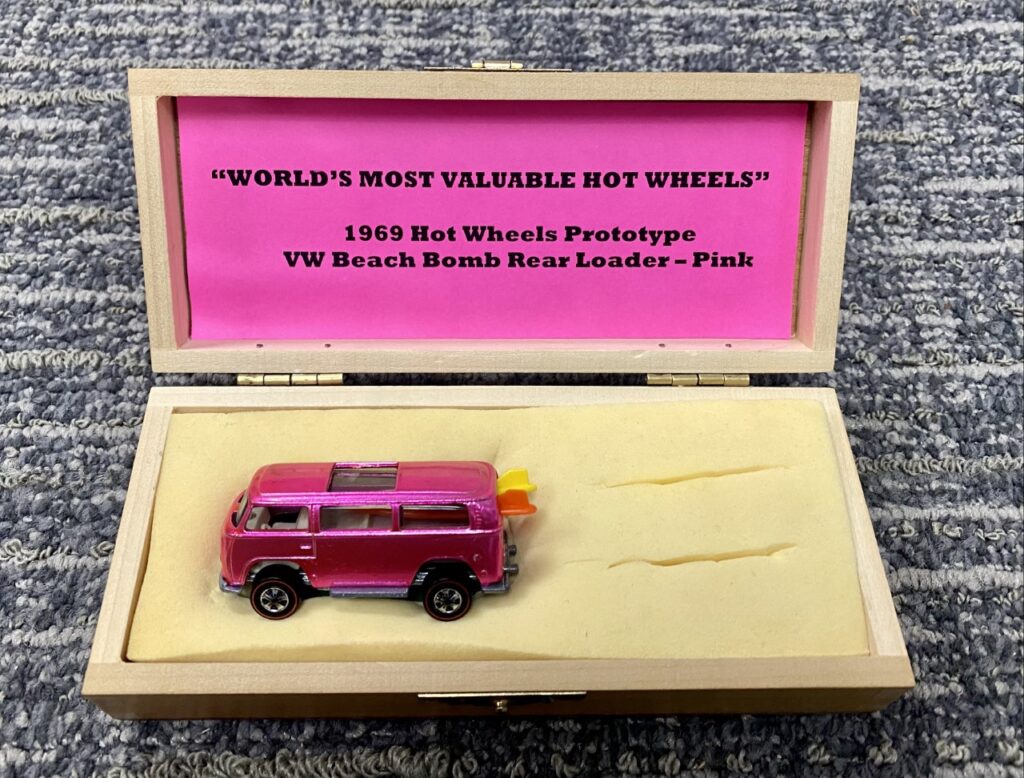 What's important to note is how Hot Wheels is much more than pieces of metal and plastic screwed together. Bruce and fellow hobbyists recognize this and aren't bothered by any sort of negativity others not understanding can bestow. "Many people think I am crazy for buying Hot Wheels and collecting them like I do, but more people are entering the hobby and it is growing. My collection was appraised for over a million US dollars back in 2010. I think in the end it will be the best investment I ever made and the people I meet and the fun is an amazing dividend." Other than the obvious toy cars his collection contains store display cases, art, original blueprints, hard to find items and many other rarities. Evidently he doesn't have an endless supply of shoeboxes to keep the collection stored under a giant bed or in the back of a closet. That would be like taking everything in Graceland and leaving them in the attic. Have mercy! "After our kids graduated high school and moved to college, my wife and I decided to downsize to a townhome community. Packing up thousands of cars and items, we moved in and I quickly realized I didn't have room to properly display the collection. To have a collection sitting in boxes, well to me that is a crime. I built a pretty cool office upstairs in the theme of what I'd want if I was president of Mattel in 1971. I hired a great architect in Washington DC, Wingate Hughes. They produced plans for my dream room. A gigantic track on the ceiling rising 14 feet, a wall showcasing over 1000 redlines and artwork all around with Hot Wheels themes." For many collectors just one tenth of the highly sought after redline range of Hot Wheels would make them cry happy tears. As their name suggests, they have a thin red line along the sidewall of the tires which enhance the look and appeal. Finding them is not easy and has had people searching yard sales and old childhood toy chests in hopes of locating at least one. Bruce continues, "Once the plans were shown to me I didn't make one change. Six months later the room was done. Then many friends and visitors came by and saw the collection. One day my wife came to me and suggested perhaps having less visitors and maybe a new place to showcase the collection. Sure, I said, and went off to find my new dream home. Lucky for me she didn't say how small so I found a 4000 foot warehouse with 20 foot ceilings. I have now created the unofficial East Coast Hot Wheels Museum. I say unofficial because it is not really open to the public. I will however make appointments and open up. I have the original drawings for the first Hot Wheels made, the first wood models carved that were needed to produce the toys, original artwork from Hot Wheels designers, prototypes, sales stands and more. Plus four real fun cars! That's my new man cave and the place where I spend my spare time." To get to the point Bruce has reached with his collection took patience and resourcefulness. He searches everywhere he can. Estate sales, auction houses and even running ads himself to be reached. "My best source is people "Googling" Hot Wheels collectors and finding me. I get three to five emails a week and I buy a collection almost every other week. Many of my best finds were the result of a three year project I undertook." Bruce decided to reach out to those closest to his lifelong passion and it paid off. "I undertook searching for Mattel employees that worked there during the 1970s. Many of them had unusual items from their days at Mattel. From internal notes, diaries to help confirm dates, blueprints, plans and artwork. Those items are the most coveted by me. They would have been most likely discarded in a move and now they are preserved history."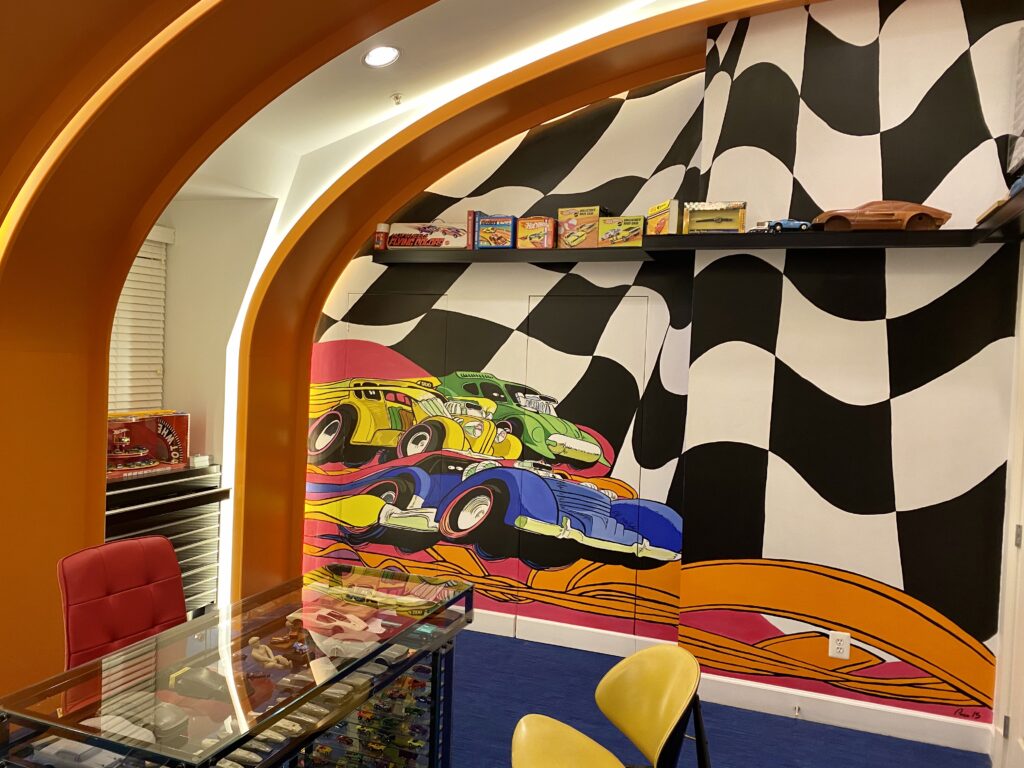 Hot Wheels have become some of the most collectible items and it's as basic as a three chord progression hit. Not to discredit only using three chords as some of the most memorable songs only have three. Just look at Lynard Skynard's 1974 anthem Sweet Home Alabama. Written with G, C and D as the three chords, it's modest yet always has Carl from accounting reaching for the microphone at corporate team building karaoke events. Simple is often another word for success. In the case of one of the planet's favorite toy it is no different. "The automobile is a part of everyone's life" says Bruce. "As a kid the cool neighbor had a Chevy Camaro and at the age of seven you could only buy a Hot Wheels Camaro and dream you were driving it. Imagination was one ingredient. Hot Wheels came out with cool colors and hues including the spectraflame colors that were translucent and very pretty. Just like the real aqua Camaro down the street, you could find a Hot Wheels one in the same shade. That's the second ingredient. The third ingredient is the overall playability. Racing them on the tracks built around the house or anywhere, these cars were fast! Just like the real ones on real race course."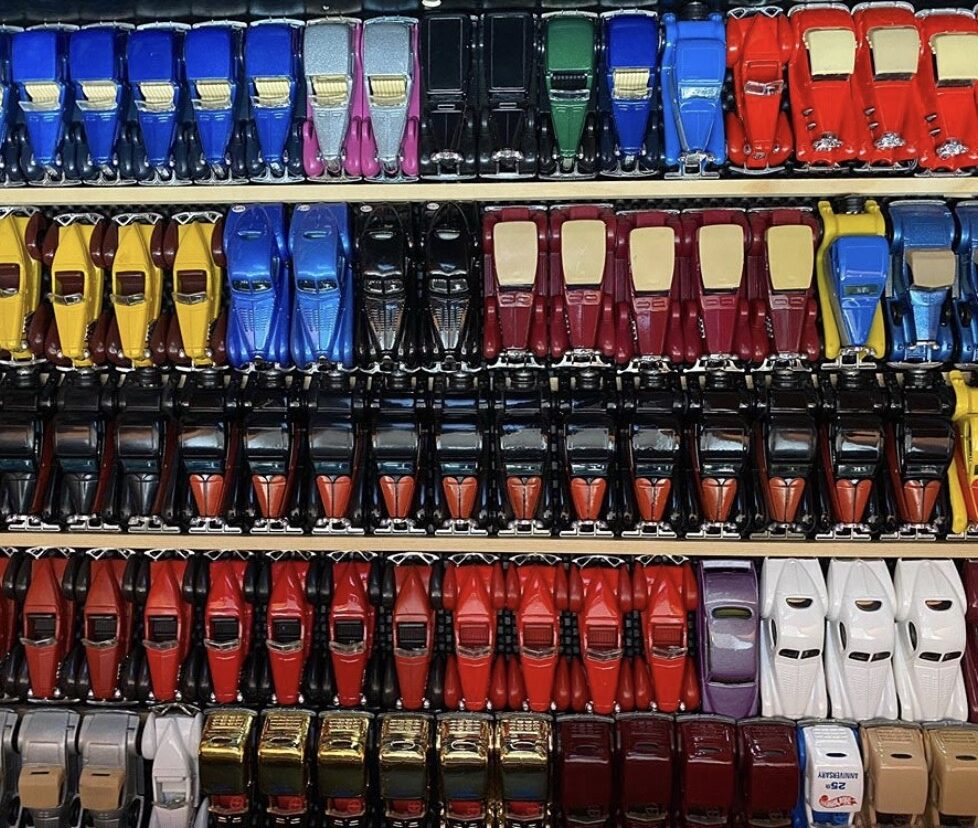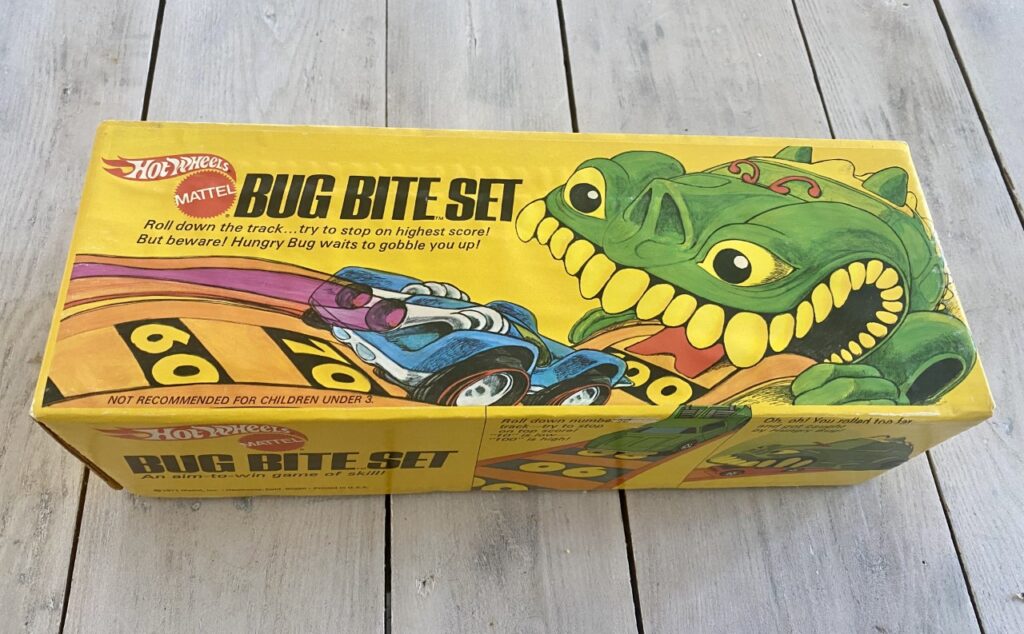 Just think how such an unassuming toy that costs still so little to this very day has had such an impact. Comparable to moments when music inspired others to pick up an instrument like when hearing We Will Rock You byQueen or More than a Feeling by Boston for the very first time. Countless automotive enthusiasts were born the same way the moment they removed that first car from the package and zipped it across the kitchen table. So many boys and girls have grown up to recall in great detail that exact moment and a myriad of similar ones. That memory for so many like Bruce Pascal is when the needle dropped on the metaphorical record and it became about more than Hot Wheelin'. Life as Bruce would eventually learn was set on a fast orange track full of stimulating loop de loops and daring jumps across the living room. Half the fun was not knowing what would happen or at what velocity. Sometimes the car flies off the track breaking mom's favorite tea set. Other times a small fortune in the form of a six figure valued pink toy Volkswagen Bus ends up in the palm of your hand and you just got to roll with it.
Follow Bruce Pascal on Instagram @pinkbeachbomb