Words: Robby Pacicco
Photos Sean S. Smith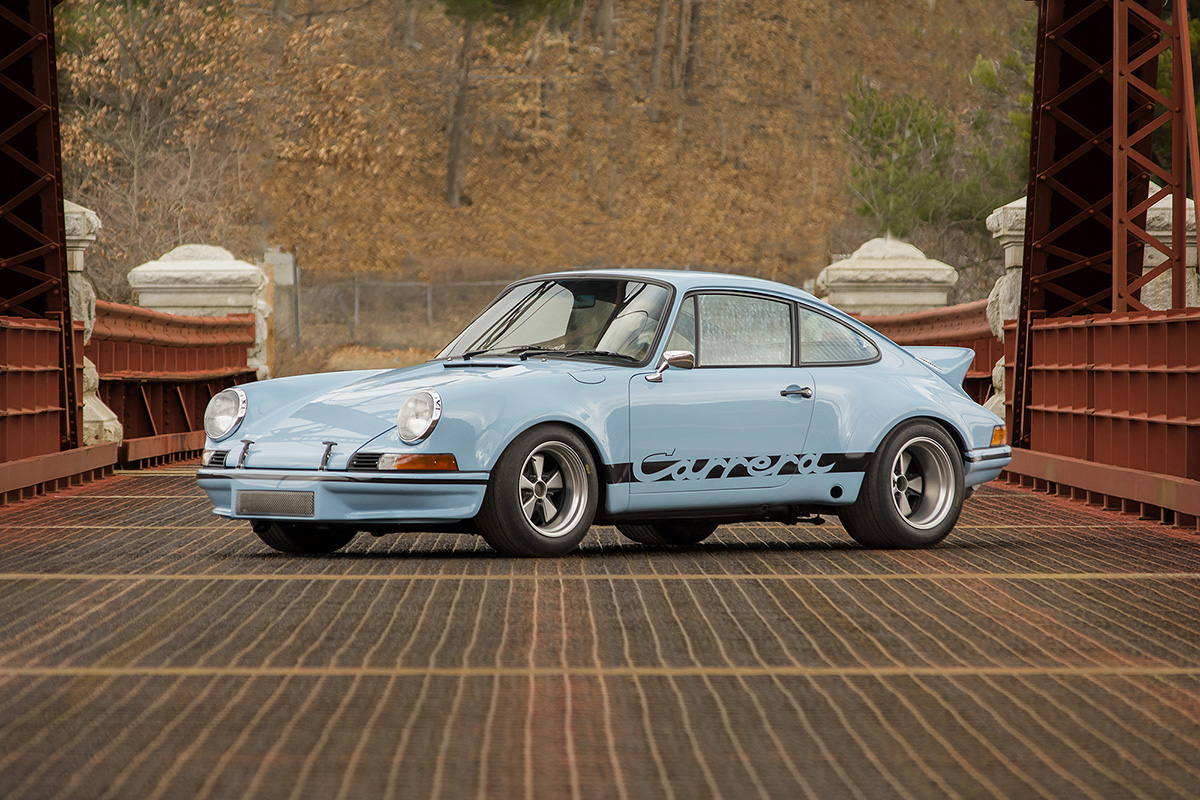 Tune into any classic rock radio station and you'll eventually hear one of the most recognizable intros to a song ever, "You Really Got Me." It doesn't matter if it's the classic original dance prompting version released by the Kinks in 1964, or the powerful pedal to the heavy metal 1978 rendition from Van Halen. Either one make for a great driving song as the shades go on, the volume goes up and a smile inducing downshift propel the driver into a dimension of pure bliss. Just like the Kinks did in '64, Porsche gave the world the 911 the same year. Nine years later, the German automaker created an instant classic in 1973 with their 911 Carrera RS for the street and RSR for the track. A car considered to be the most coveted among Porschephiles and car collectors the world over. Of course a machine such as the RS and RSR deserve the best homage possible, they require their own automotive equivalent to what Van Halen did. In music, it's called a cover song when one artist performs another's work. In car culture it's called a tribute car. More importantly in either world when done right it's called art. Ladies and gentlemen, art is exactly what we find coming out of the great state of New York.

Our automotive cover song is performed by Richard Schickman of Bedford Hills, NY. The man and artist behind what is becoming the ever popular RSR Project. "I've always loved Porsches from when I was 15 years old" says Richard. "I restored two as a kid and the RSR is the ultimate in my eyes, so aggressive looking!" Many would instantly agree with him. The wide flared out fenders, the subtle yet aggressive ducktail styled rear wing and overall stance have the car looking like it's moving even when parked. "I wanted to build one, my dream car," and he did. "But then someone wanted to buy that car and a light bulb appeared." Just like that, the first chord was strummed as Richard put his plan in motion and cranked the amps to 11. His work is no one hit wonder either, as he is a student of experience and patience. Of course he has to be since it's not just anybody that can recreate with such confidence and quality for what was already a hit. "I've been working with or on classic cars since I was 15 years old. I picked up an old BMW 2002 with a blown motor that was all rotted out belonging to my high school Spanish teacher."

"I learned to use a welder since it needed new rockers and had to learn to do bodywork." An ambitious teenager with a love for cars was laying the foundation down for what we are now witnessing today. Learning and laboring away in his youth has paid off extremely well for him as he still applies his acquired skills to this day in each new example he produces.

"I then had to paint it once done, so I learned how to paint. Self-taught. I never thought of it as a big deal but I guess for some it can be." Being able to self-teach and be extremely talented from the experience is something that is remarkable, let alone in multiple aspects of vehicle restoration. Just like David Bowie and Prince who were known for their skills with multiple musical instruments, they were self-taught. Yes, practice does make perfect. What Richard does is being done very well and it shows.
Learning how an ordinary Porsche 911 becomes a tribute RSR is simple and logical. "Most have been off EBay. I look for 1984 to 1989 cars. I have them checked out at a local shop near the seller. Once I confirm no accident damage and no rot, it's good to go! I'm not as concerned with body issues, interior, motor or transmission as it all gets redone. The key for me is clean shell with no accidents" explains Richard. Porsche 911s are already known for being great cars and every generation has evolved from the previous one. The silhouette of the car has remained pretty much untouched since being introduced to the world in 1964.
It takes a true connoisseur to find the differences between model years. Richard continues explaining the process for the transformation, "In terms of process, the cars are stripped down to nothing. Then sent off for media blasting. Once returned, the fender flares are welded on and the modifications for the old style bumpers are done. I get back a painted shell and then the interior work is done, all new. After that the mechanical process starts. Re-installing all the suspension, motor, transmission, wiring all the lights and wheels and tires."
So, you are reading this and asking how do these cars drive? Well, what can be expected when you take a classic recipe and include better ingredients? By no means is this a knock on the original RS/RSR cars, so save the hate mail. Those original specimens cannot be slandered, that's sacrilege! Given the technology available at the time, they are forever great cars and will always be. The question that has to be asked is if an original RS/RSR should be daily driven.
Porsche purists will scream "NO" in international unison. The beauty about owning one of Richard's glorious tribute RSRs is that they are made to be driven every day. "The nice thing about them is the 3.2L motor. They will run for 300,000 miles. The other thing that is nice is they can be driven at this price point. My customers don't have to worry, it is a piece of art to be enjoyed, to be driven." Richard is very strong on the point that he is not building trailer queens to be towed from show to show. "They can have a real one or other collectables worth millions but this is something they can drive all the time." The luxury the machines coming out of the RSR Project offer is daily pleasure and livability without feeling the guilt of lowering the value of an original specimen. These cars are meant to be driven, it's the reason they were created in the first place. Richard puts so much love into each car he builds that they become a part of him. "I put so much time, effort and passion into each one. I go through a bit of seller's remorse with each one. I want to keep them! Although seeing them out there and knowing how happy the clients I have built them for is much cooler and rewarding a feeling."
The classic Kinks song like the original RS/RSR will always be the one historians and aficionados will spin on their turntables every once in a while, just to hear the crackling sound of the needle on vinyl. The RSR Project produced cars, like the Van Halen version are proven to be fun, adrenaline pumping crowd pleasers that command respect. Richard Schickman built his dream, and now he builds dreams for others. With that said, the RSR Project is most definitely on the way to becoming a platinum hit with an ensuing world tour.